Precision Blackbodies
High Temperature
300°C to 3000°C Models:
The flagship products in the Thermo Gauge line are the rapid response, graphite tube furnaces. These unique furnaces feature back-to-back, argon-purged dual cavities. The two cavities are resistively heated simultaneously, one acting as the control cavity, the other as the source cavity. Both cavities feature emissivities in excess of 0.995. Models are used in major standards & calibration laboratories worldwide.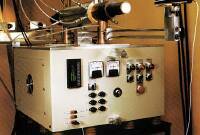 Exposed Cavity Blackbody Furnace at 2000 °C.

Enclosed Cavity Blackbody Furnace with Optical Bench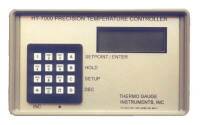 Precision Digital Blackbody Temperature Controller
Furnace Spare Parts And Accessories:
Exactus™ Control Pyrometers: (Downloadable in PDF format-Approximately 6 Mb)
Emissometer (Contact us.)
Optical Bench: (Contact us)
Product Catalog: (Downloadable in PDF format-Approximately 3 Mb)
New Products:
Keep an eye on this space; there are some exciting new blackbodies under development!