The Exactus™ Pyrometers are used to control Thermo Gauge's furnaces. They are highly precise designs used widely in the semiconductor industry and in R & D in many industries.
The center sketch illustrates the size and main geometric properties of the Exactus and its principle lens options.
More detailed Specifications, as written by the manufacturer, are give in the right column. Further details are contained in a downloadable brochure.
The Exactus™ Pyrometer Used For Furnace Control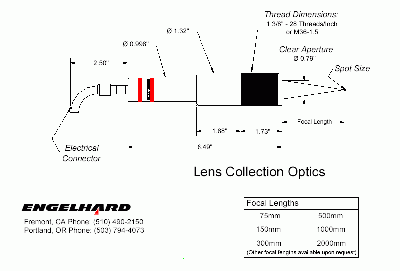 SUMMARY SPECIFICATIONS:
Collection Optics: Lens
Wavelengths: 900nm or 1600nm
Accuracy: ± 1.5°C or 0.15%T
Repeatability: ± 0.10°C
Resolution: 0.01°C (Decreasing near low end of temperature range)
Speed: Up to 1000 readings per second
Response Time: (95% FS) 1 rps/5000ms, 10 rps/500ms, 100 rps/50ms, 1000 rps/10ms
Digital Output: RS 485 Full Duplex, RS 232.
Analog Output: (optional) User Configurable 0-10V, 4-20mA, 0-20mA.
Ambient Range: 10°C to 60°C for Electronics
Dimensions Lens System: 1.375" diameter x 7" length (35mm x 178mm)
Weight Lens Probe: 375 grams (13.2 oz.)
CE Mark: Fully Certified

Power:12-28VDC, 3W