Welcome to Thermo Gauge Instruments!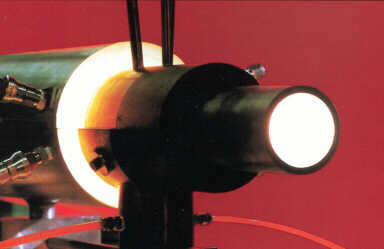 Entrance aperture of a windowless graphite tube Blackbody furnace at 2000 °C.
Our Precision Blackbodies are used worldwide by those who know thermal radiation sensors and their calibration requirements.
Look over our blackbody (black body) products and services and email, write or call if you would like to learn more, obtain updated replacement parts or obtain a quotation.
If you are an existing customer click here or above on "Products" for parts & upgrade information.
Precision blackbody products help us build long term relationships because many of the Thermogage original blackbody furnaces and all of our blackbody furnaces are still in daily use.
Our flagship products are the renown windowless graphite tube blackbody furnaces employing the rapid heating concept pioneered by furnace designer and inventor, Chuck Brookley. Some of the original models, nearly 30 years old, are still in use today; real workhorses!
Explore our website and learn some truths about blackbodies, too. Thank you for visiting!